In 1992: Hangar't born in Nizon, under the leadership of Yves Quentel, journalist and passionate arts.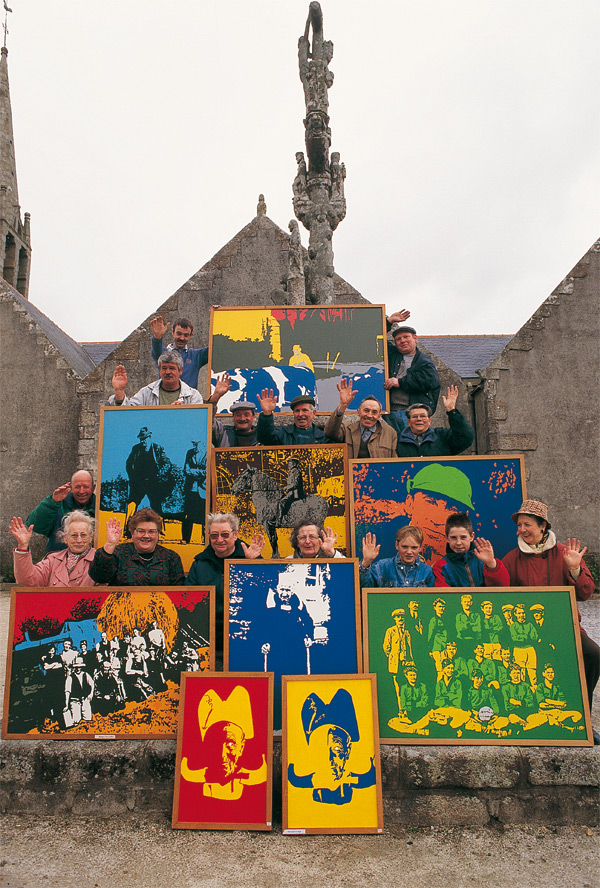 He launches this Hangar't adventure at the art festival " Le Mai des Avens " organized by the Junior Chamber International.
The idea? Work on the memory of a small rural town, Nizon (Pont-Aven).
Find documents and pictures to make Pop Art's style paintings.
From February 1992, meetings are held every Sunday in the village of Nizon.
People bring their photos found in shoeboxes or family albums.
There were just a few members at first, but today, more than sixty people have already
made ​​at least one table in the workshop of Hangar't.
Breeders, farmers, architects, butcher-delicatessen, heating specialist, pancake maker, carpenter, retireds, etc.. All take the brush, and the only professional in the band is a painter specialized on ... car body!
The first Hangar't tables are painted in an old cannery that suddenly takes on the appearance of "Factory", the famous Experimental "factory" of Andy Warhol.
So, suddenly Nizon starts to look like New York!
2012: Twenty years later, in the footsteps of Warhol, the founders-members are still there. Their big project this year is an exhibition in New York, the city of the master of Pop Art: Andy Warhol.
The event will take place in October 2012.
In New York, thirty paintings* will be presented by Hangar't in the premises of the Angel Orensanz Foundation Cultural Center in Manhattan, and about 30 of its members will be traveling at their own expense.
The budget also involves a partnership with several Brittany companies.
"Hangar't New Yark 2012" will be thus an opportunity to show a wide range of "made in Breizh" products in New York.
And now, Nizon suddenly finds himself in New York!
(*) The collection of Hangar't has about 300 paintings.